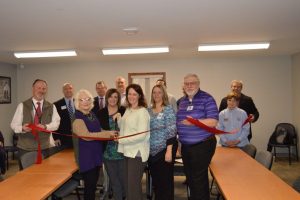 Community leaders and hospital personnel gathered April 5 to unveil the new Heritage Building on the Wamego Health Center campus.
The Heritage Building houses the area's only senior behavioral health service and serves the Wamego and surrounding communities.
"When we started this project, a lot of community members came and asked me what was going in this building," said Steve Land, Wamego Health Center administrator.
"As we go through any phase of life we go through different health issues, including emotional and mental issues," he continued. "Not every community has this type of program. We are extremely blessed to have this our team of providers here."
Wamego's senior behavioral health program cares for only Medicaid patients, according to Bob Copple, Via Christi Hospital in Manhattan president.
"Geriatric behavioral health is few and far between in Kansas," he said. "There's a huge shortage and we don't have enough resources in our state."
The senior behavioral health program moved from Manhattan to Wamego several years ago, Copple added.
"That was a way to protect a program, support it and allow it to continue," he said. "It's important for people to realize that this is a key service. We are serving our region and we should be proud of that."
"One of the great things about this program is we actually have the funding to transport patients here for care," Copple explained, adding that the new building brings in a home-like feel to patients because the environment where a person is being treated matters.