Wamego Health Center Emergency Department receives Geriatric Accreditation

The Wamego Health Center Emergency Department has received a Level III accreditation by the American College of Emergency Physicians' Geriatric Emergency Department Accreditation program (GEDA), which along with the Society for Academic Emergency Medicine, Emergency Nurses Association and American Geriatrics Society developed and released geriatric ED guidelines.
"We are very proud of this accreditation as it's another step in showing our commitment to providing the absolute best possible care for our community members who look to our emergency department for exceptional care," says Brian Howells, hospital administrator. "As part of our Mission, we want to care for those who are most vulnerable and we hope that this is a reassurance to the geriatric members of our community that we care about your specific medical nee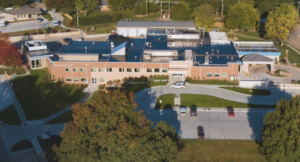 ds and will continue to help Wamego Health Center be the best place to go in this community to receive care."
The hospital's full-service ER is staffed by physicians 24/7 and includes laboratory and radiology services with 5 exam rooms and additional treatment spaces. As part of their geriatric certification, a nurse and physician on staff completed specific geriatric training and serve as clinical champions for geriatric care in the ED.
This accreditation allows the Emergency Department to continue to provide high standards of close-to-home care to our community.