Wamego Health Center celebrates five years of safety

Wamego Health Center recently celebrated its fifth year in a row with no major safety events, which is defined as an occurrence at the hospital that causes significant harm to a patient.
"We have a great connection with our community here in Wamego, Pottawatomie County, Wabaunsee County and beyond," says Brian Howells, Hospital Administrator. "It's not just patients that we are ta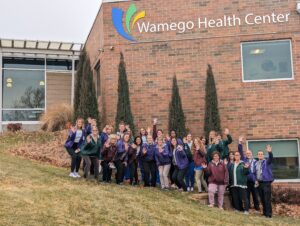 king care of, it's our neighbors, friends and family."
Howells credits this milestone achievement to the culture of safety that the hospital and its staff have created. 
"We are blessed to have great support from Ascension Via Christi Hospital in Manhattan as well as the City of Wamego," says Howells. "That support ensures that we have outstanding healthcare that meets the needs of our amazing community." 
This achievement allows Wamego Health Center to continue to provide high standards of close-to-home care to the community.