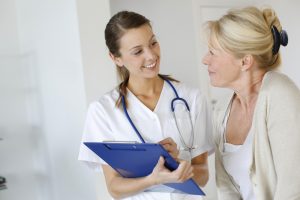 When you or a family member is feeling unwell, how do you know where to go for treatment?
Stacia Brown, RN, Wamego Family Clinic manager, offers a few tips to help you decide whether to visit the Wamego Family Clinic's walk-in services or if you need to go to the Emergency Room.
When to Use Walk-in Services
For non-life threatening circumstances including but not limited to:
Colds
Flu symptoms
Cough or upper respiratory symptoms
Ear or sinus pain
Minor burns and bruises
Scrapes and minor lacerations
Sprains
Possible fractures
Asthma
Pediatric illness over age of 3 months
Abdominal pain – mild to moderate without fever or abnormal vitals
Rash or hives
Stings and bites
Allergies
Fevers – ages 3 months to 70 years old
Headaches
Vomiting
Eye irritation or minor
Urinary symptoms
Minor work related injuries
School physicals
Will it be a long wait?
It depends, and we'll do our best to help you quickly. Typical waits are 15 minutes to 1 hour.  You can check the wait times before you go or when you arrive.
Who will I see at the Walk-in Clinic?
You'll see one of our healthcare providers: a medical doctor, a nurse practitioner, a physician's assistant.  They work together and each one is committed to making lives better through health and healing and doing what is right for each patient.
Is it going to be expensive?
Check with your health insurance plan for details and co-pay amounts. Our walk-in services are billed as an office visit, not billed as ER care.  You are expected to pay your co-pay or $50 at the time of your appointment and will be sent a statement for the balance due, following insurance response.
I don't have a primary care provider. Does it matter?
You can utilize our Walk-in Services for circumstances listed above whether you have a PCP or not. If you don't have a PCP, we think it is important to find one.  For the best health, establish a relationship with a Primary Care Provider for annual visits, follow-up care, and to manage your health conditions.
When to Schedule an appointment with Primary Care Provider or covering provider
You can always request to schedule an appointment with your Primary Care Provider. There may be a wait time before your PCP has an available opening so plan ahead and request an appointment several days in advance.
Medication management and refills
Treatment/Plan of care for known diagnoses and conditions
Mental health
Referrals needed
Yearly or routine physical exams
KDOT Physicals
Pre-operative physical exam
When to Use Emergency Care or call 911 from home
Severe trauma or injury
Chest pain (suspected heart attack or stroke)
Amputation of limbs or deep wounds with severe bleeding
Sudden confusion, weakness, dizziness, numbness, severe headache
Difficulty speaking or breathing
Head injury
Motor vehicle accident
Loss of Consciousness
New onset of Seizures
Major burns involving the face, dorsal surface of hands, fingers, large areas of the body
Vomiting blood
Smoke or chemical inhalation
Poisoning, overdoses
Suicidal behavior
Physical or sexual assault
Pregnancy complications over 20 weeks including labor, bleeding, fluid leakage, decreased fetal movement
Abdominal pain – Severe or if it includes fever or abnormal vital signs
Pediatric illnesses – when infant is less than 3 months of age
Post-operative complications
Foreign object in eye