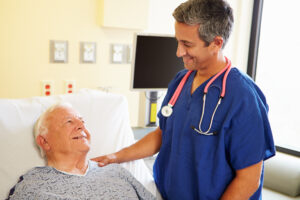 Our swing bed program is a Medicare sponsored program that provides extended care to individuals needing additional time to rebuild their strength following an acute illness or surgery.
The goal of our program is to help our patients return to their home and live independently or with the help of community resources.  As a patient in our swing bed program, you will receive specialized care from our nursing staff 24 hours a day 7 days a week.  Our nursing staff and your physician work as a team to provide personalized care in a home like environment.
Swing bed Requirements:
Swing Bed patients must have had a 3 day in-patient stay at any hospital and a need for either I.V therapy  or a need for one of the following:  Physical therapy, Occupational Therapy or Speech Therapy.
Components of our Swing Bed Program:
Discharge planning
Weekly meeting with the patient and patients family
Nutrition counseling
Daily activities include Guest Computer for social networking, Net Flix movies, or your favorite computer games / And more….
In-Home evaluations as necessary
Examples for which a patient may need a SWB stay:
De-conditioning or weakness due to any hospitalized illness or surgery lasting greater than 3 midnights, with the potential for improvement after hospitalization
Hip replacement, repair, fracture
Knee replacement
Spinal surgeries with extended recovery time
I.V. Therapy
Stroke or certain brain injuries
Wound Care
Cardio/Pulmonary conditions
Malignant/end-stage disease care
Swing Bed Team:
DeAnn Campbell, Physical Therapy
Kate Conwell, Speech/language Therapy
Mary Jane Damme, Occupational Therapy
Crystal Gipson, Physical Therapy
Alexis Herrman, Occupational Therapy
Kendra Heller, Physical Therapy
DeAnn Jackson, Swing Bed Coordinator
Angie Land, Physical Therapy
Sara McCarn, Physical Therapy
Haley Schmitz, Physical Therapy
Laura Vincent, Physical Therapy
Although our Swing Bed Program is sponsored by Medicare, we also accept many types of private insurance.  Please contact our swing bed coordinator at 785-458-7103, or ask your hospital social worker or case manager to contact us.  Our coordinator will provide you with a referral to our price line for a pricing quote.